Age is just a number, life begins at 60… you've heard the headlines before. Yet these incredible older people are proof that there might be something in the old clichés after all. Be inspired by these daredevils, who trampled all over their age in the rush to get out there and do something fun. So long, pipes, slippers, knitting and other age-related stereotypes: human beings are living longer than ever, so it's time to make the most of it. We've hunted high and low to find the awesome adventurers who are redefining what it is to be old. Whatever your age, you're bound to be impressed…
1. Paragliding Peggy
In 2007, one day after her 100th birthday, Peggy McAlpine from Scotland became the oldest person to tandem paraglide in the world. In 2012, however, her record was beat by fellow daredevil Mary Allen Hardison from the US, who was celebrating her her 101st birthday. Undeterred, Peggy went on to reclaim her title in 2013, at the age of 104. After being helped from her wheelchair into her harness, she took to the skies over Northern Cyprus. Peggy died the following year, but the footage of her legendary leap is lasting testament to her brilliant bravery.
2. Olga the Athlete
Canadian Olga Kotelko entered her first Masters athletics competition aged 77 – and after that, she was hooked. From triple jumps to hammer throw, Olga went on to smash over 30 world records for her age group, amassing a dazzling 750 gold medals. The former schoolteacher took part in the World Master's Athletics competition, open to 'veterans'over the age of 35. Perhaps it was the fact she escaped an abusive marriage in the fifties that made her so strong and determined. Olga carried on competing – and winning – well into her nineties, before she died earlier this year.
3. Fauja, Marathon Man
Fauja Singh is a world record holding marathon runner with some pretty impressive achievements under his belt. Right now, he's retired from running, but he is 103. He hung up his running shoes in 2013, after running the Hong Kong Marathon at the age of 102, however he continues to run for pleasure. Fauja's record for the London Marathon is 6 hours 2 minutes, achieved when he was 92. No wonder he was snapped up as the face of an Adidas advertising campain, alongside the likes of David Beckham.
4. Otto the Stellar Swimmer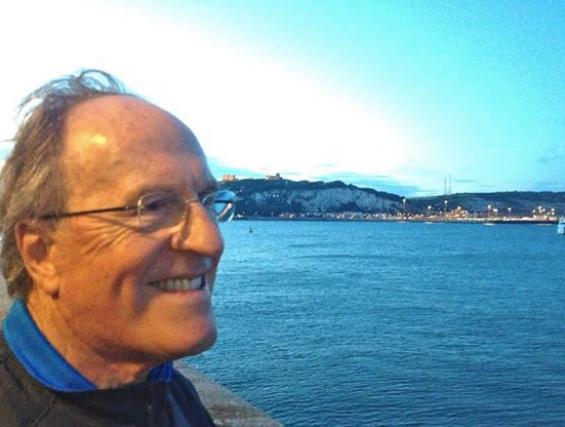 73-year-old South African Otto Thaning made waves (and headlines) earlier this year, when he became the oldest person to swim the English Channel. The brave heart surgeon said he wanted to prove what older people can do if they look after themselves. Spare a thought for 71-year-old Australian Cyril Baldock though; he earned the title just one month before Thaning pipped him to the port.
5. Ray the Brilliant Bodybuilder
Ray Moon, a brilliantly named 84-year-old from the US, has wowed the world with his amazing body building talents. He took up body building in his seventies and regularly competes in the over 35 category. Ray holds the Guinness World Record for oldest competing body builder, but that's not all: he's suffered from polio, cardiac arrest and bladder cancer. Just look at him now…
6. Daphne Selfe, Timeless Supermodel
She's graced the pages of Vogue and the catwalks of Paris – and Daphne Selfe doesn't look set to stop any time soon. In fact, she's just been named the face of a new campaign by intu, in Manchester's Trafford Centre – at the ripe age of 86.The veteran supermodel is said to put her graceful good looks down to growing her hair long, steering clear of Botox and eating healthy food. That and the old genetics. We might not all be graced with supermodel aesthetics, but there's nothing to stop us taking a leaf out of Daphne's style book…
7. Yuichiro Miura, Everest Skier and Scaler
Climbing the world's highest mountain is probably one of the most impressive journeys a human being can make. Japanese mountaineer Yuichiro Miura pretty much owns Everest.OK, that might be a bit of an exaggeration, but he has still got some astounding Everest-related records to his name, which are made all the more impressive by his age. Miura's relationship with the great peak began in 1970, when he became the first person to ski on its slopes. After a descent of over 4200 feet,he attracted film makers and found himself the centre of 1975's award-winning and imaginatively named documentary 'The Man WhoSkied Down Everest'. Miura first scaled Everest in 2003, at the tender age of 70, but was beaten shortly afterwards. He carried on, though; reaching the top in 2008 at the age of 75 and again in 2013, aged 80. No wonder he's smiling.
8. Margit Tall, the World's Oldest Bungee Jumper
Nothing makes you feel youthful like dangling on a piece of elastic from a 150-foot crane. That's what 95-year-old Finnish lady Margit did this summer. On solid ground, she walks with a stick – but she didn't need it when she was bungee jumping from the crane, which afforded great views over her home city of Helsinki. Such was this womn's bravery that she didn't even scream. Margit didn't quite grab the title of oldest ever bungee jumper (that went to 96-year-old South African Mohr Keet), but it was still a remarkable feat. And we love the fact she's called 'Tall'.
9. Wika Szmyt – Queen of the Decks
Wirginia Szmyt, also know as DJ Wika, is one of Poland's most famous DJs. Who just happens to be 77 years old. At her regular sets in Polish capital Warsaw, she spins everything from salsa and rumba to disco and pop from her twin laptops. Whatever the genre, if it makes the people dance, she'll play it…
10. All-Round Adventurer, Mary Lou Mahaney
Mahaney lost her husband at 72, which is when she started to travel. Despite her sadness, she decided to dust herself off and head to the countries she'd never visited before. Now she's 90, and she's been to over 100 countries – but it's not all about stamps in her passport. What's even more amazing about Mary is what she does when she's on the road. From stroking lions to zip-wiring, this thrill-seeker has taken part in some wonderful – and unforgettable – experiences.
11. Tao Porchon-Lynch, the Flexible Friend
Frenchwoman Tao Porchon-Lynch is the proud owner of the Guinness World Record for world's oldest yoga teacher. She's 96, and her colourful life, which began in India, has seen her be a dancer, actor and model. Age has never been an issue for Tao, who can be found online contorting into some unbelievable poses.
12. Ernestine Shephard, Extraordinary Bodybuilder
OK, we've already had the inimitable Mr Moon, but we couldn't complete this list without 74-year-old Ernestine Shephard, the world's oldest competing female bodybuilder. As well as pumping iron (and, frankly, looking radiant,) Ernestine teaches classes from her regular gym in Baltimore. She's got a sublime six pack, but she only started sculpting it when she was 57, after seeing an unflattering photograph of herself in a swimsuit and vowing to take more care of her body.
https://bluebirdcare.ie/wp-content/uploads/2014/10/Olga-Kotelko.jpg
400
600
bluebirdcareadmin
https://bluebirdcare.ie/wp-content/uploads/2018/05/bluebird-web-logo.jpg
bluebirdcareadmin
2014-10-07 15:45:29
2018-05-18 17:41:03
12 of the World's Boldest Older People